Bloomberg News Service
(U.S. wire)
Trump Aide Says Press Secretary Used 'Alternative Facts'
by Justin Sink, Margaret Talev and Toluse Olorunnipa
Spicer falsely claims largest-ever inauguration audience

Photographs, data from subway contradict Trump claims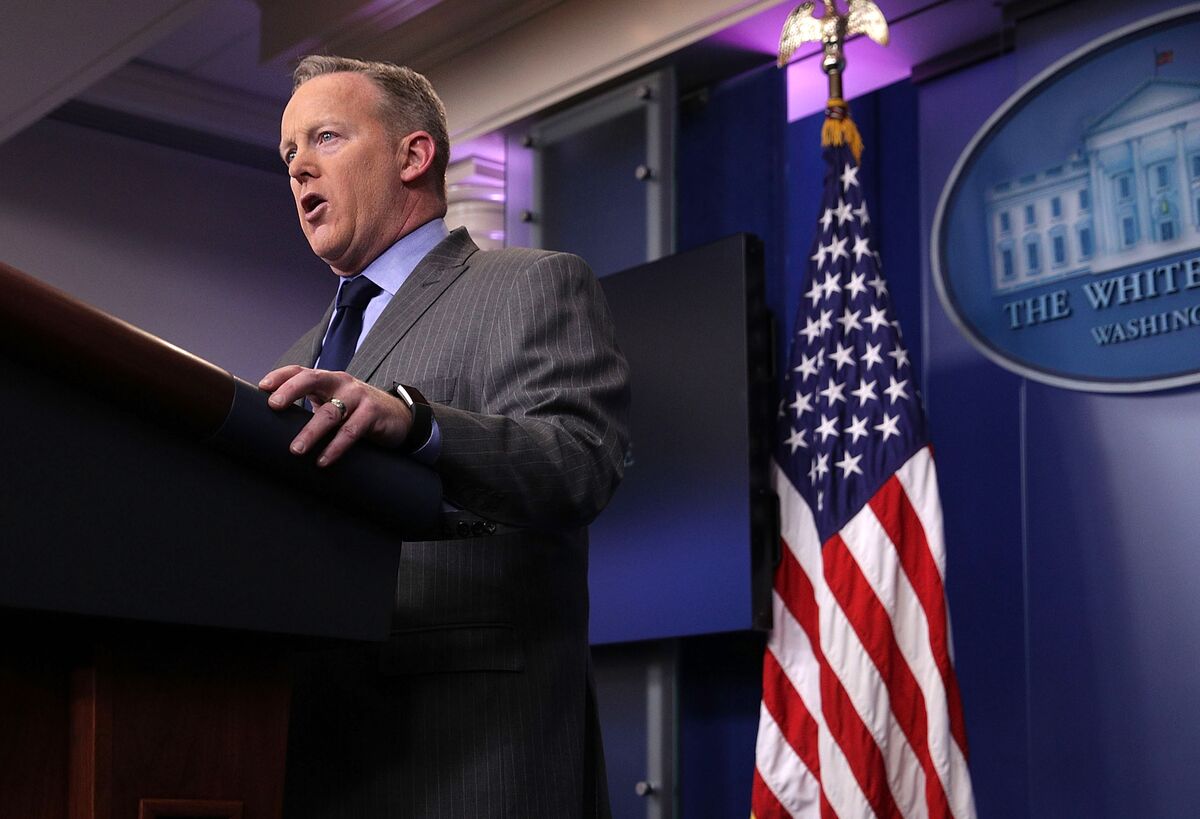 A top adviser to President Donald Trump said Sunday that his press secretary, Sean Spicer, had offered

"alternative facts"

in a statement the day before from the White House briefing room in which he contested reports on the size of Trump's inauguration audience.
"Sean Spicer, our press secretary, gave alternative facts," Trump counselor Kellyanne Conway said on NBC's "Meet the Press" on Sunday.
Her remark drew a riposte from the program's host, Chuck Todd.

"Look, alternative facts are not facts. They're falsehoods."
Conway's characterization of Spicer's statement exacerbated a growing rift between Trump's White House and the news organizations that cover it, less than two days into his administration. On Saturday, his first full day in office, Trump and Spicer both made easily disproved claims, adding fuel to his opponents' charges that

the president is a habitual liar.
CIA Speech
During a speech at CIA headquarters in Langley, Virginia, Trump accused the media -- whom he termed "among the most dishonest human beings on Earth" -- of inventing a "feud" between him and the U.S. intelligence community. In fact, Trump has fought a running public battle with intelligence community leaders for months over their conclusion that the Russian government intervened in the presidential campaign, going so far as to suggest that the CIA was the source of leaks against him.
"One last shot at me," Trump said about the intelligence community 11 Janunary on Twitter, where he has over 21,000,000 followers. "Are we living in Nazi Germany?"
In the same appearance at the Central Intelligence Agency, Trump mused that "a million or a million and a half" people had attended his inauguration.
There is no official crowd count for the event, but photographs from the same vantage point at about the same time of day clearly show that attendance was significantly less than at Barack Obama's first inauguration in 2009, when city officials said that 1.8 million people gathered on the National Mall. The Washington subway system said that it had fewer riders by 11 a.m. Friday than at the same time on the day of Obama's second, smaller inauguration in 2013.
Photographs and data from the subway system, Metro, also indicate that Saturday's Women's March on Washington, a protest against Trump, outdrew the inauguration. Over 1 million people rode Metro on Saturday, transit authority CEO Paul Wiedefeld said in a letter to employees. It was the second-busiest day in the system's history, after Obama's 2009 inauguration, he said. Total ridership on Friday was 570,557, which would not rank among the system's highest ridership days.
Spicer Statement
Late in the afternoon on Saturday, Spicer took to the podium in the White House briefing room for the first time to say that Trump's inauguration audience was the largest ever "both in person and around the globe."
Using misleading subway ridership numbers, Spicer claimed that more people rode Metro on the day of Trump's inauguration than during Obama's second inauguration. Spicer compared ridership numbers at 11 a.m. for Obama's 2013 inauguration with full-day numbers for Trump's event, which would include many more people on return trips.
Full-day ridership for Obama's first inauguration was a record 1.5 million. Metro ridership on an average weekday in 2016 was about 639,000.