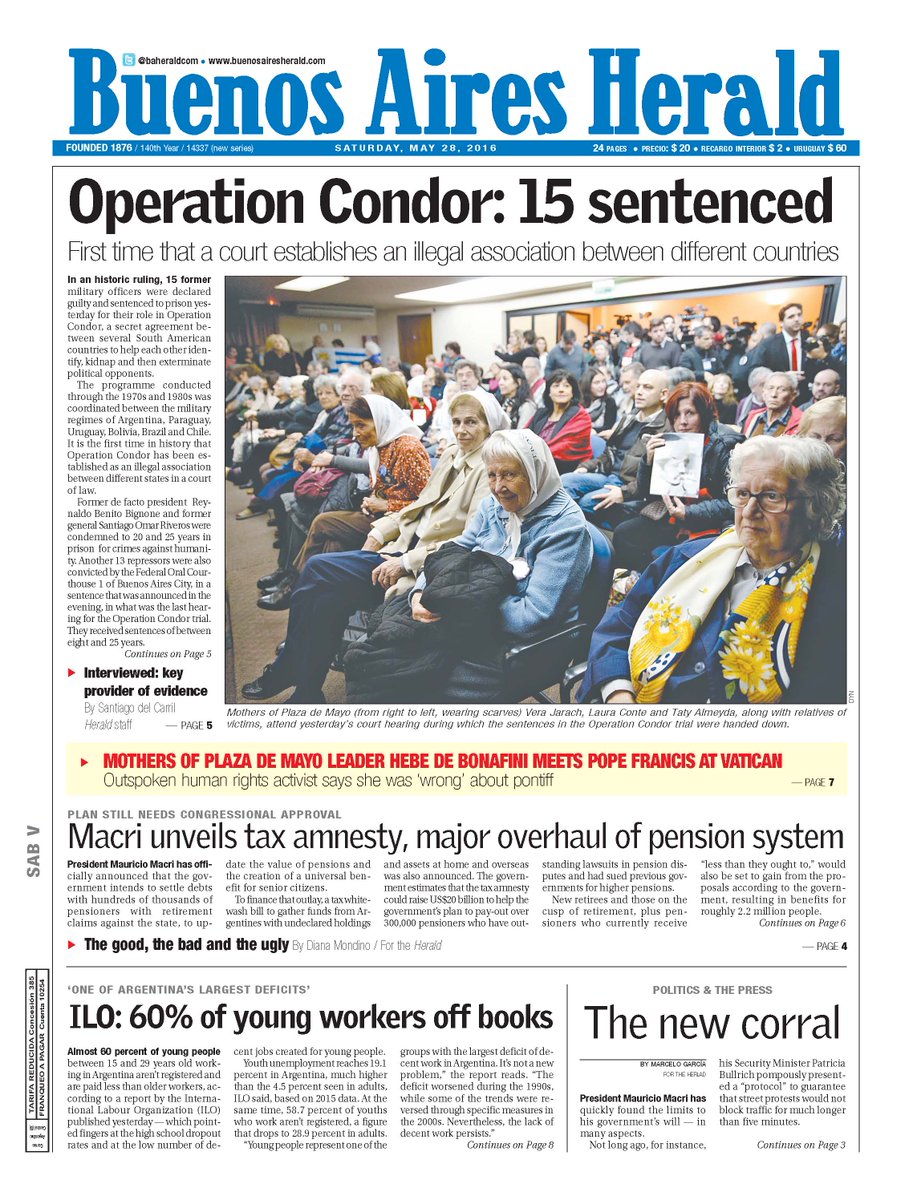 By Santiago Del Carril
Herald Staff

Trial could open the door
to further investigations implicating
Latin American and US officials

A historic verdict that could for the first time judicially confirm the cooperation between the Southern Cone region's military dictatorships in eliminating political activists — in what is known as Operation Condor — could be given today, opening the door for further investigations.
Operation Condor was a plan between military regimes from Brazil, Argentina, Paraguay, Chile, Bolivia and Uruguay during the 1970s and 1980s to share information, resources and exchange prisoners who would then be secretly tortured and many times executed with their bodies discarded and hidden. "If the court ruling is favourable, this would be the first judicial sentence that addresses and establishes that Operation Condor was an illegal association between different states," CELS Executive Director Gastón Chillier told the Herald yesterday. The human rights organization was part of a group of plaintiffs who requested that an investigation be opened in 1999, which finally commenced in 2013.
Although 32 former military officers from Argentina and one Uruguayan were originally indicted in the case, only 17 will receive a sentence after the others either died of natural causes or were removed due to health problems. The remaining accused will receive a verdict for the murders of 109 political activists from the region.
CELS and the prosecution are requesting up to 25-year prison sentences for the military officers. The majority of the victims originated from Argentina, while 45 were from Uruguay, 22 from Chile, 15 from Paraguay and 13 from Bolivia.
Part of the investigation focused on a clandestine detention centre known as
Automores Orletti
, where Uruguay victims who had tried to flee their country or were living in exile in Argentina were detained.
"We've had a lot of collaboration from Uruguay, Chile and Brazil in collecting and analyzing specific documents related to the investigation," state prosecutor Pablo Ouviña told the Herald.
One of the most important pieces of evidence presented in the case is the Archive of Terror from Paraguay's Museum of Memory that was discovered in 1992. The stash of documents demonstrated how the Paraguayan intelligence agents would cooperate, and the foundation of Plan Condor. "The Terror archive was incorporated in the case, showing how in 1975 they made Operation Condor official, and how the different countries would cooperate, and the phases of the plan in details," explained to the Herald, CELS lawyer Luz Palma Zuldau, who is representing the human rights organization in the trial. The CELS lawyer was alluding to a secret meeting that occurred on November 28, 1975, held between intelligence heads from Argentina, Bolivia, Chile, Paraguay and Uruguay.
In this meeting, the Intelligence directors signed an act officially establishing
Operation Condor
. Intelligence agents such as the Argentine Jorge Casas, Bolivian Carlos Mena, Uruguayan José Fons, Chilean Manuel Contreras Sepúlveda, and Paraguayan Benito Guanes Serrano made a pact to eliminate not only political opponents, but also social activists, and union and student leaders. For decades, previous governments in the region denied that a secret operation had existed, until human rights activist
Martín Almada
discovered the "Archives of Terror" in 1992 in the Paraguayan city of Lambaré.
According to the CELS, Operation Condor was divided into three periods.
The first phase was the creation of a database to track the movements of guerrillas, political parties and leftist groups, union leaders, religious authorities, liberal politicians and anyone perceived as an enemy of the authoritarian military dictatorship.
This was followed by a second phase, where they would begin to identify and attack those political enemies in the region, and even in some cases eliminate those who were residing outside the region such as in the United States or Europe. A notable case is that of former Chilean foreign minister
Orlando Letelier
under ex-president
Salvador Allende
's administration. In 1976, he and his US companion were blown up by a car bomb in Sheridan circle in Washington DC. This was later revealed to be ordered by former Chilean dictator
Augusto Pinochet
.
The documents incorporated in the trial also reveal that United States government agencies were aware of the program and some government leaders even secretly approved it.
One of the best-known pieces of evidence is a memorandum of conversation between former Secretary of State Henry Kissinger and former Argentine foreign minister Admiral César Augusto Guzzetti, which was declassified by the National Security Archive (NSA) in 2004. "If there are things that have to be done, you should do them quickly. But you should get back quickly to normal procedures," Kissinger answers Guzzetti after consulting him about the human rights violations they were committing, in a meeting held in Santiago, Chile in June, 1976.
Although Kissinger's and the US government's role weren't the focus of the trial, Chillier explained to the Herald that there is a possibility that this could lead to other investigations in the region.
"Kissinger's role in this Operation wasn't part of the investigation... but it remains clear that they (US government officials) were aware of the plan... An interesting piece of evidence incorporated in the case was that the US had facilitated a communications site based in Panama to help provide intelligence services to the nations involved via the telex system," said Chillier. He highlighted that more information about the United States role in the operation could be revealed when archives from that period are declassified, as US President Barack Obama promised on his state trip to Argentina last March.
In many countries, such as Paraguay, investigations into crimes against humanity committed by the former military authorities has so far been limited. While former Paraguayan dictator
Alfredo Stroessner
and Chilean General Augusto Pinochet had been cited to testify, they died before they could be taken to trial. The only former dictator who is being tried is ex-Argentine general
Reynaldo Bignone
, who is the highest-ranking surviving ex-military figure.
For many victims from other countries, such as Paraguay, this is an opportunity to receive some type of justice over what happened to them. "This is a trial that will have not only effects in Argentina, but also symbolic and historic effects in countries that participated in Operation Condor... we hope this generates a series of political decisions that leads to more investigations," said Palma Zardua.
@delcarril
- 30 -